Price Disclaimer and Key Notes
Please note that prices and availability of our products are subject to change without prior notice. Despite our best efforts to maintain accuracy, occasional errors may occur. In such cases, where a pricing discrepancy is identified, we will promptly notify you via chat, email, or phone. You will then have the option to accept the amended price or cancel your order.

We highly recommend verifying stock availability and prices before proceeding with your payment. For credit card payments, please allow approximately six to eight business days for processing and clearance. Your understanding and cooperation in these matters are greatly appreciated. Shipment will occur within two to five business days following the clearance of payment.
Please be aware that our primary focus is on business computers and servers. Accessories are typically available for purchase as part of a bundle or may be offered in larger quantities.
Description
WORLD'S FIRST LIGHTNING SPEED MECHANICAL SWITCH
Innovative LK optical switch technology uses optical detection that removes all input lag which is able to obtain zero digital latency reacting with a speed of 0.2ms key response.
8 LK Switch

Anti-Slippery Lift

30% Faster Keystroke

Zero-Lag Response

Key Response

3 Color LED indicator
Game at the Speed of Light

An exclusive revolutionary switch design blends the speed and precision of optical technology with a premium tactile stroke, providing the ultimate combo of satisfying key-feel with precise and accurate execution. 

Adjustable Backlights

Press Fn + F12 to adjust the lighting effects.
Press Fn +"↑ / ↓" to adjust the light brightness.

Key Response Less 0.2ms

Without any traditional metal bouncing noise. Performs extreme 0.2ms light speed response!

Actuate, 30% Faster

Optic Switch only needs 1.5mm to actuate 30% faster than traditional metal switch (Traditional metal switch needs 2.2 mm to actuate)

Zero-Lag, 30ms Faster

Reacts at light speed without lag. (Traditional Metal Switch delays 18~30ms due to metal bouncing)

Ultra Durable, 100 Million Lifetime

LK Optic switch has a life span of over 100 million key strokes. (Traditional metal switch tends to oxidize and wear out easily)

Double Secure Water-Resistant

Electronic sealed + water drain hole greatly prolongs the lifetime of keyboard.

Game Mode

Press Fn+F8 will disable "Windows" key to avoid interruption during the game session.

8 ABS Keys

The 8 gaming keycaps are designed for a longer comfort usage.

Anti-Slippery Keyboard Lift

Prevents keyboard moving or vibrating during the game.
THE WORLD'S MOST ADVANCED GAMING DEVICES
Bloody keyboards feature the unique design, high-quality precision and state-of-the-art technologies. Focusing on details, convenience and ergonomics makes it at the top. As the centerpiece to your gaming setup, Bloody keyboard is designed to deliver total satisfying control right to your finger-tips.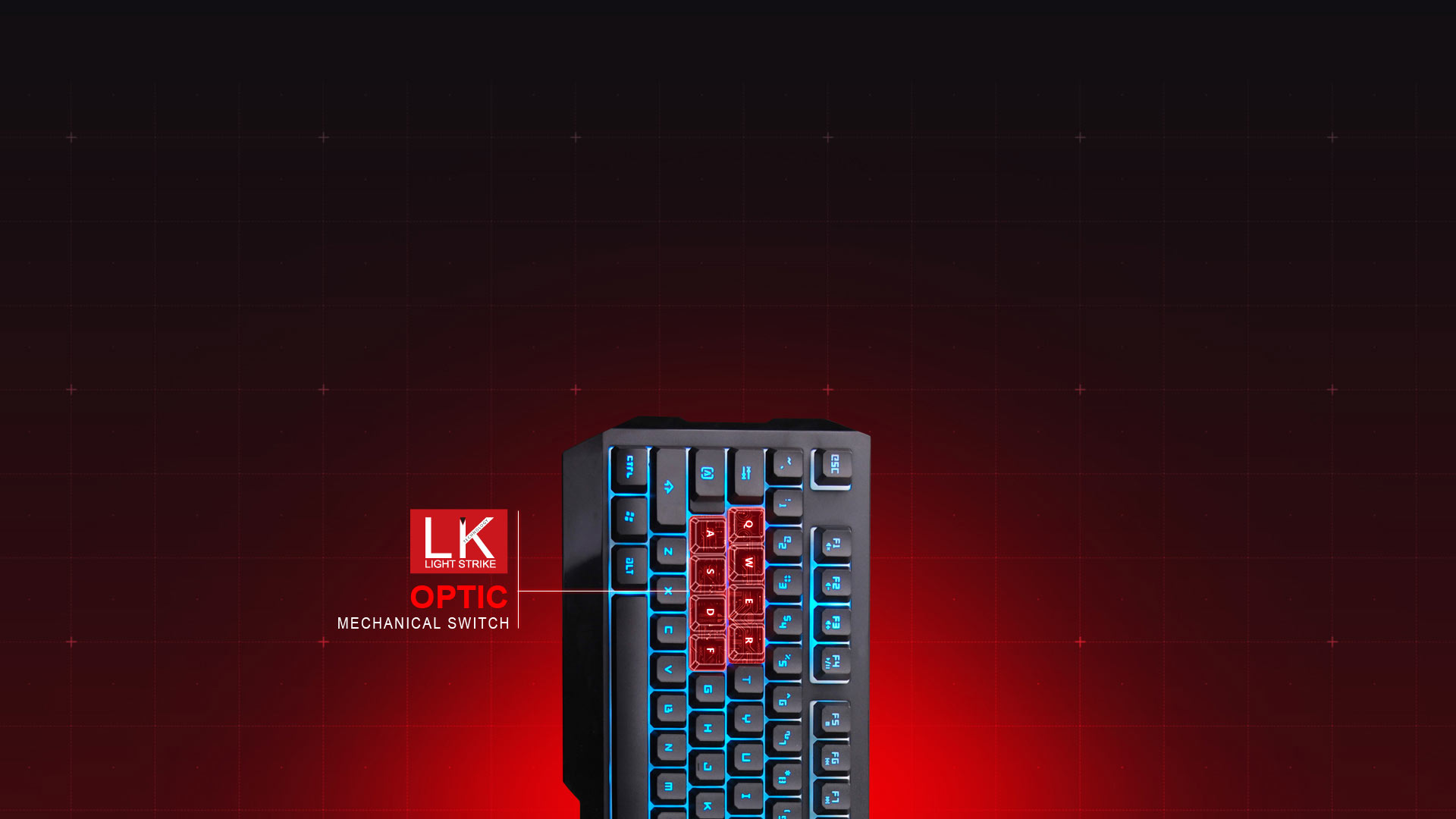 TECH SPECS
PERFORMANCE
Optical Key : Q/W/E/R/A/S/D/F Optic Switch
Optical Key Response:0.2ms
Hotkey:Multimedia hotkey
Backlit:Neon Glare
Gaming Keycaps:8 ABS Keycaps
Water-Resistant:Double Secured
Space-Bar: Screw Enhanced
Connector: USB
Cable Length : 1.8m
System Requirements: Windows XP/ Vista/ 7/ 8 /8.1 / 10 or later
PRODUCT SIZE